Jeg har lige læst at det skulle blive regn sådan nogenlunde hele denne måned, hvilket jo er sommer som vi kender det bedst her i Danmark. Det kan godt være vi ikke kan ligge på stranden med en god bog eller grille med vennerne, men til gengæld kan vi følge op på alle de serier vi er kommet bag ud med i løbet af år.
1. Mr. Robot
Mit nyeste serie-crush som jeg faktisk sidder og ser på nuværende tidspunkt! Serien handler om en ung programmør med en del problemer i livet og en række diagnoser. På grund af hans evner inden for hacking bliver han hyret af en Mr. Robot. (Ps. Der er en dansker med i serien, som rent faktisk snakker dansk!)
// My latest show-crush that I am actually sitting and watching at the moment! The show is about a young programmer with a lot of problems in life and a variety of diagnoses. Because of his skills in hacking, he is hired by a Mr. Robot.
2. New Girl
New girl har jeg set stort set lige siden den udkom. Jeg har aldrig rigtigt fulgt den kronologisk, men jeg tror alligevel jeg har set alle afsnit, og mange af dem flere gange. Den handler om Jess der flytter ind i en lejlighed med 3 singlefyre, og sådan starter eventyret. Nok en af de sødeste og hyggeligste serier.
// New girl have I seen ever since it was published. I've never really followed it chronologically, but I think still I have seen all episodes, and many of them several times. It's about Jess who moves into an apartment with three single guys, and so the adventure starts. Probably one of the sweetest and friendliest shows.
3. Mad men
En lidt mere seriøs serie, der skildrer forretningsmanden Donald Draper i 1960'erne. Vi følger ham gennem hans tilgang til livet, både på jobbet og hjemme hos hans familie. Serien er som sagt lidt mere højtidelig og sætter vægt på ting som magt, utroskab og tillid.
//A slightly more serious show depicting the businessman Donald Draper in the 1960s. We follow him through his approach to life, both at work and at home with his family. The show is as I said a little more solemn and is about things such as power, infidelity and trust.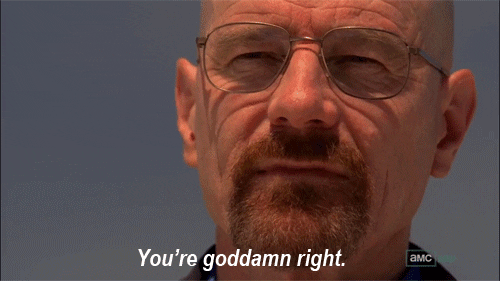 4. Breaking bad
Breaking bad er efterhånden en "ældre" serie. Som en del andre, fulgte jeg den nært hver gang der kom et nyt afsnit. Serien handler om en kemilære der får diagnostiseret kræft, og beslutter sig for at han lige så godt kan bruge sin sidste tid på jorden til at bidrage til sin families økonomi - ved at lave amfetamin.
En fantastisk serie som jeg desværre mangler den aller sidste sæson af, som jeg har hørt skulle være god!
// Breaking bad is almost an "old" show. As some others, I followed it closely every time there was a new episode. The show is about a chemistry teacher who is diagnosed with cancer, and decides that he might as well use his last time on earth to contribute to his family's economy - by making amphetamine.
A fantastic show which I unfortunately lack the very last season of which I have heard should be good!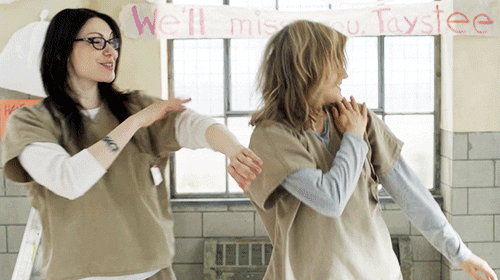 5. Orange is the new black
Piper Chapman bliver idømt 15 måneders fængsel, og vi følger hendes liv bag tremmerne. Jeg ved ikke helt hvad jeg mere skal skrive, andet end se den!
/
/ Piper Chapman is sentenced to 15 months in prison, and we follow her life behind bars. I do not know what else to write, other than watch it!
6. Suits
Suits kan godt drage nogle paralleller til mad men, bare mere nutidig. Den handler om Mike Ross der begynder at arbejde for et advokat firma, sammen med Harvey Dent, en af de dygtigste advokater. Den lille hage er bare at Mike Ross ikke er udannet, hvilket de prøver at skjule, mens de løser folks sager.
//Suits can draw some parallels to mad men, just more modern. It's about Mike Ross who starts working for a law firm, along with Harvey Dent, one of the most talented lawyers. The thing is that Mike Ross is uneducated, which they are trying to hide while solving cases.
7. American Horror Story
Serien er ret svær at beskrive, og hver sæson tager plads i et nyt miljø, med nye mennesker og nye mysterier. Den deler ret meget vandene, men jeg synes det er en fantastisk og velskrevet serie. Jeg har endnu ikke set sæson 5, så det glæder jeg mig til!
// The show is rather difficult to describe, and each season takes place in a new environment with new people and new mysteries. Either you like it or you hate it, but I think it is a great and well-written show. I have not seen season 5 yet, so I am looking forward to that!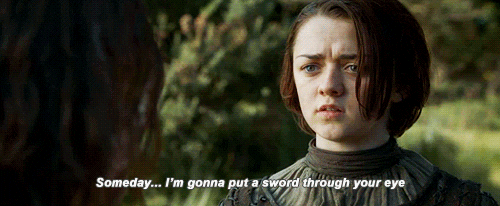 8. Game of thrones
Jeg troede faktisk at næsten de fleste mennesker havde set Game of thrones, men jeg fandt ud af at en del af mine venner ikke engang var startet! Og derfor kan jeg kun give en opsang om at man skal komme i gang. Der har lige været sæsonafslutning, men hvis du endnu ikke er gået i gang, har du mange timers underholdning forud.
//I actually thought that almost most people had seen Game of thrones, but I found out that some of my friends were not even started! And therefore I can only provide a reminder to you that you have to get started. There have just been the end to the season, but if you have not yet started, you have many hours of fun ahead.
Hvilke serier følger du med i?
// Which shows do you follow?